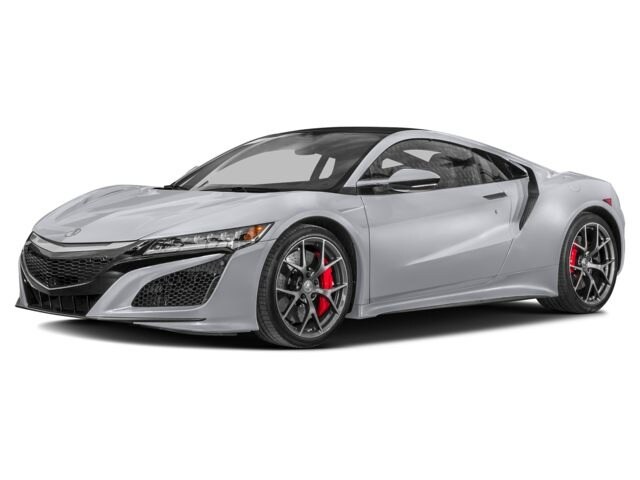 Overview
Following the latest trend in the supercar segment, the NSX eschews a 10- or 12-cylinder naturally-aspirated engine in favor of a mid-mounted, twin-turbocharged V6 mated to an electric drive train. That V6 displaces 3.5L and generates 500 horsepower and 406 lb-ft of torque on its own. The hybrid component of the NSX includes three electric motors — one integrated into the car's nine-speed dual-clutch transmission and another two mounted to the front axle, giving the NSX all-wheel drive. Total system output is 573 horsepower and 476 lb-ft of torque.
Although hybrid systems have typically been utilized to increase efficiency, the electric system in the NSX is geared more toward performance. The electric motors aid in initial acceleration, which helps to reduce the inherent turbo lag of a turbocharged engine. The twin front motors also allow for true torque vectoring — when going around a corner, the NSX is capable of "dragging" the inside wheel while sending power to the outside wheel, helping the car turn more quickly.
That said, the hybrid system should net above average city fuel economy for the segment while allowing the NSX to cover small distance at low speeds on battery power alone.
Acura hasn't quoted 0-60 times for the NSX, but the automaker says the hybrid can hit a top speed of 191mph.
The NSX boasts super car lines with a few typical Acura styling cues mixed in. Most notably the NSX features a version of Acura's beak-like front grille and a set of the brand's signature LED headlights. The NSX was designed with airflow in mind and, as such, it sports several vents and wings to improve cooling and aerodynamics.
Key Competitors
The Acura NSX's main competition includes the Porsche 911 Turbo, Ferrari 488 GTB and the Audi R8 V10.